I am generally available for b&w or colour illustration work.
Contact me
for details!
Credits
My work appears in fantasy publications by
Atlas Games, Kenzer and Co., and HinterWelt Enterprises.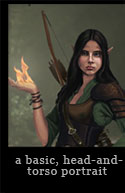 Custom Portraits
I am also available to do custom character portraits. I have a fairly realistic style, and attempt to create armour and other gear that makes sense based on the character's profession. A basic digital portrait is 300dpi, 4x5", includes the head and torso of one character, and is full color
(see right)
. The default price for a portrait of this type is $40 USD. Basic character portraits generally take 2-4 weeks to complete.
Options for customization include:

Full body portrait. If you want an 8x10" full body portrait of your character (visit my portrait gallery for examples) that adds an extra $40 to the base cost and an extra two weeks to the completion time.
Backgrounds. Digital portraits include a non-descript background of some kind, but specific and detailed backgrounds like a tavern, a forest, or wizard's lab are possible. The cost of a custom background is anywhere from $10 to $50 depending on how much detail is in it.
Animals. The cost of an animal companion depends a little on the size. A simple songbird or rat adds only $5. A typical wolf or horse would add $20. Dragons or other complicated beasties can add as much as $50 to the price of the portrait, depending on how much needs to be rendered.
Prints. The base price for a portrait includes a digital copy of the artwork; I can include a physical print for an additional $10 plus shipping.
Payment: A deposit of 50% of the total price is required before work begins, and the remainder is due once you are happy with the rough sketch. Throughout the painting process you will have at least two opportunities to see the work in progress and request reasonable revisions or alterations.
I accept payment through Paypal, or by cheque or money order. Prices listed are in US dollars.
I retain the copyright for the private commissions I do, meaning I can reproduce the work for publication or other self-promotional activities. You are welcome to display the artwork on your own website and other non-commercial uses.
Send me an email at eric@mindplaces.com and tell me what kind of portrait you'd like. I'll tell you what it would cost and what my schedule is like, and we'll proceed from there!